Leading Dumpster Rental Sandwich
Are you searching for the best dumpster rental Sandwich? Coastline Disposal is here to offer you the best roll off container rentals at the best prices. As a locally owned and operated small business, our goal is to keep our dumpster rental prices low and our standards high. We don't just deliver your dumpster and leave you on your own. We can assure you that your dumpster rental Sandwich will be delivered on time and our team will be around to answer any questions throughout the process.

We're proud to offer our 5-star reviewed services to Sandwich, Massachusetts, and surrounding areas. Whatever your roll off rental needs are, our friendly and helpful staff is here to help. We understand that a dumpster rental can be a crucial aspect of your project. That's why we bring high-quality dumpster rental Sandwich options to you so your project can be completed with ease. We also understand that your time is valuable and that's why when you rent with Coastline Disposal, we can assure you that the process is efficient and quick. Our simple and easy-to-use online booking system allows you to rent a dumpster Sandwich MA at your convenience with no problems. We ensure your information remains safe and secure with our secure software checkout.

We offer various dumpster rental Sandwich sizes ranging from 10 to 20 yards that will be perfect for any kind of residential or construction clean-up. The size of your dumpster is important to your project and if you can't figure out the right dumpster for your project, we are here to help. Our customer service team takes pride in offering reliable information and answering any questions you might have. Here at Coastline Disposal, we have your back!
Various Uses for Dumpster Rentals Sandwich
Whether you're sprucing up your yard, remodeling a bathroom, or trying to solve your business's waste management needs, our dumpster rentals Sandwich are the perfect solution to your trash problems! We're here to support a wide variety of projects ranging from residential to construction to commercial.

Our customers appreciate our dumpster rental rates Sandwich and know we offer competitive pricing with quality products and unbeatable customer support. Whether this is your first time booking dumpster rentals Sandwich or you have lots of experience with roll offs, we're confident our selection of dumpster rentals on Sandwich will support all of your upcoming projects or jobs.

We work closely with Sandwich Transfer Station to make sure all waste is properly disposed of in accordance with all city, county, and state regulations. There are certain Sandwich dumpster restrictions, which is why our experts are here to help every step of the way, from the perfect roll off placement that won't damage your property to hauling it away in a safe and legal manner. Get in touch with our team today by giving us a call at (508) 737-6540 or use our convenient online booking tool to rent from the best of the best in Sandwich dumpster companies.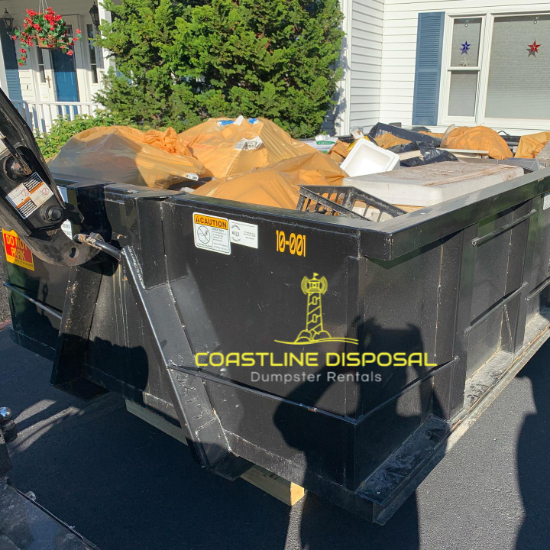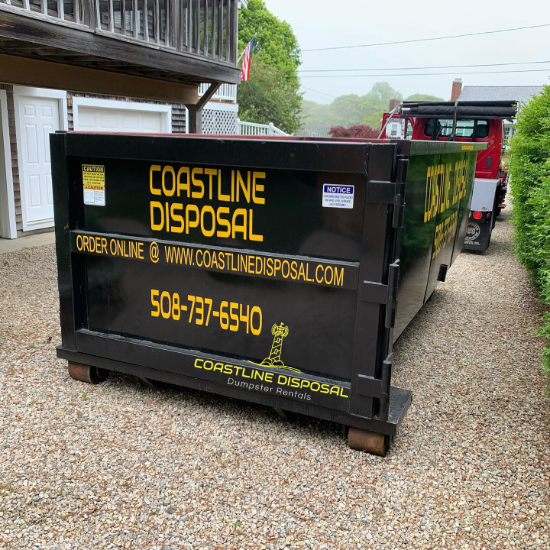 The Best Residential Dumpster Rental Sandwich MA
Residents of Sandwich County and surrounding areas put their trust in us for all of their dumpster rental Sandwich MA needs. We are the small dumpster trash collector Sandwich residents know they can count on. House renovations can be a pain, but we are here to ensure you that when it comes to the trash disposal part of the process, you won't have to worry. We have the best dumpsters on Sandwich that will get any and every job done right the first time.

Getting some yard work done? We have a special 15 yard dumpster made specifically for brush and yard debris. Clean out the flower beds, redesign your landscape, or clean up after a storm in a convenient way with our dumpster rental, Sandwich.

Dumpster rentals on Sandwich are made easy with our online booking system. You don't need to spend hours to get your roll off dumpster Sandwich rental taken care of. Our online booking system makes your job even easier! Whether you're preparing for a big garage or estate sale, updating larger appliances, or working on a single-room remodeling project, we're here to support you every step of the way. With a dedicated team committed to great customer service, you can't go wrong with Coastline Disposal as your choice for the most reliable, affordable, and heavy-duty Sandwich dumpsters.
Construction Debris Dumpster Rental Sandwich
Coastline Disposal is the #1 source for renting a construction debris dumpster rental Sandwich. Do you have heavy and bulky items to dispose of after a major construction project? We have the perfect options for renting a demo dumpster Sandwich. With our various sizes of container options, we're confident we can help you keep your job site on track and waste-free. As a reliable and affordable brand for dumpster rentals, we're the trusted choice for contractors and demolition managers.

People trust us to take care of their construction debris dumpster rental Sandwich needs because they know we not only have the right size dumpster, but it's a reliable dumpster. Our dumpsters are the ideal waste containment and removal solution for junk and waste of all types. It's not just about having any dumpster, it's about having high-quality dumpsters to ensure your trash disposal goes as planned. Book with Coastline Disposal for the leading Sandwich dumpster options!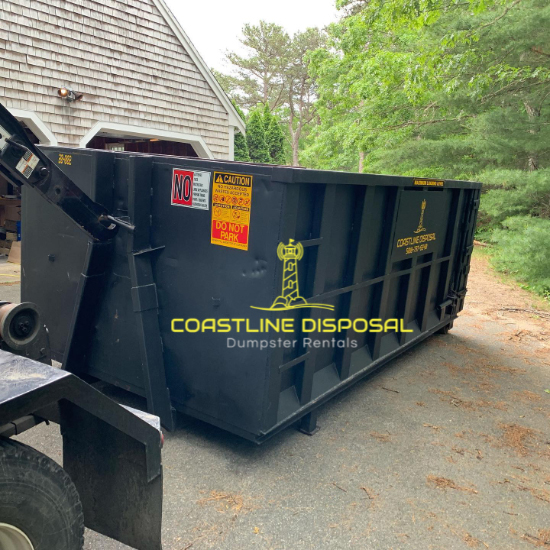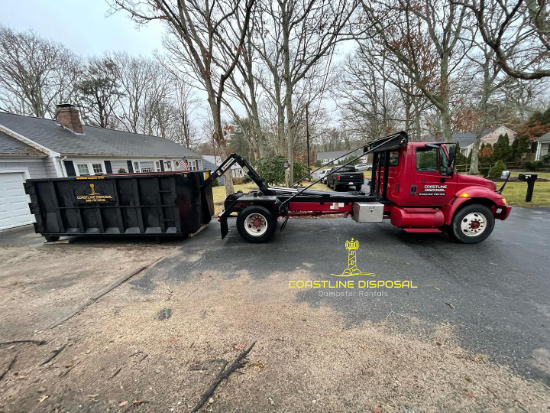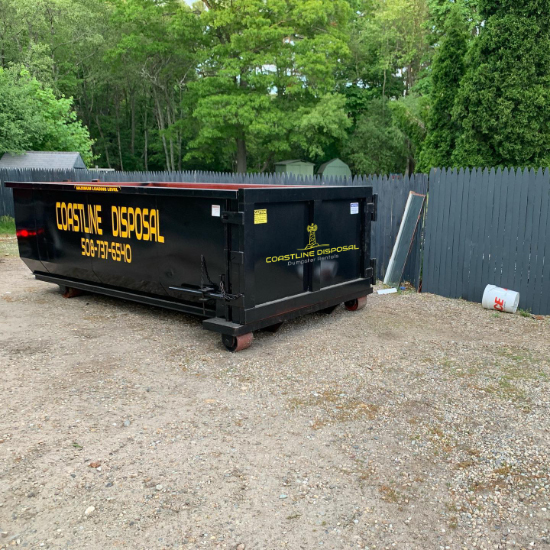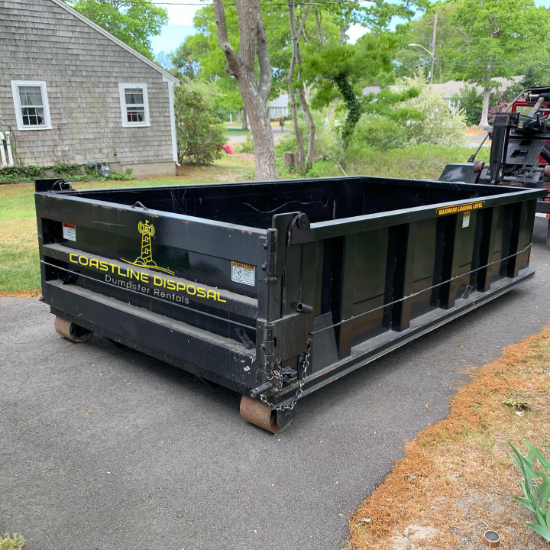 Commercial Dumpster Rental on Sandwich
It's no secret that trash stacks up quickly in commercial settings, which is why our affordable, convenient dumpster rental on Sandwich options are a must-have for business owners and property managers alike. Whether you're in need of ongoing dumpster service Sandwich and the island or just need a one-time rental, we're here to help.

We're the go-to provider for a commercial dumpster rental on Sandwich because we prioritize stellar customer service, flexible scheduling, and competitive pricing so that you can focus on what matters most to your business or complex. Whether you're looking for a small dumpster Sandwich to keep on-site or need a single rental to clean out a public space, give our team a call or book online today!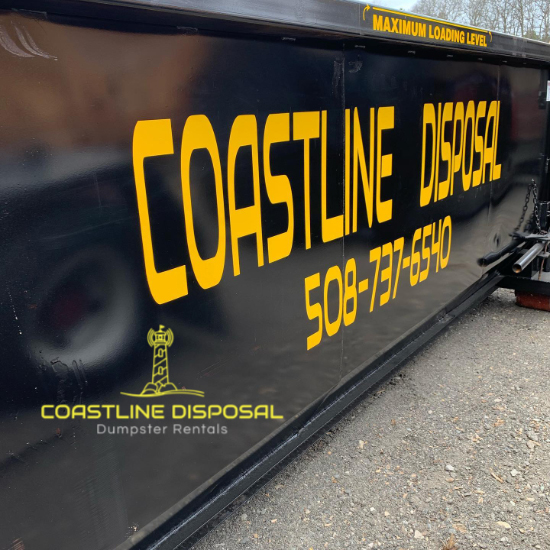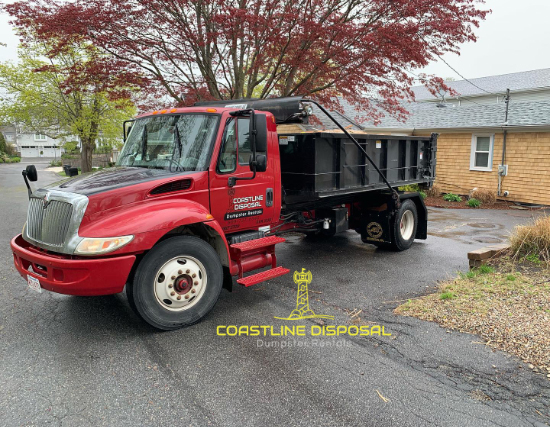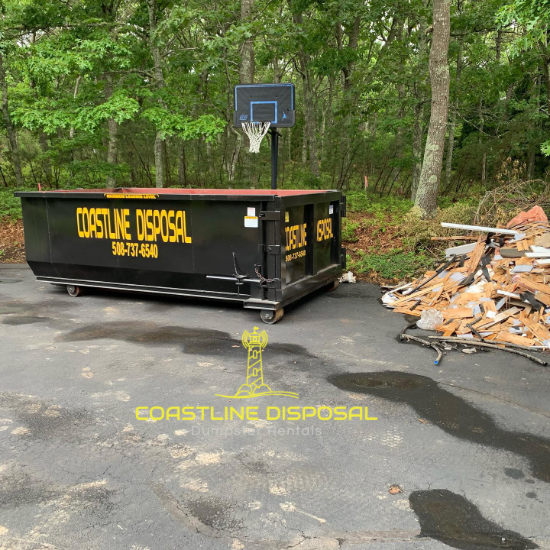 How to Book Sandwich Dumpster Rental
Booking a Sandwich dumpster rental is the easiest process with Coastline Disposal. Our online booking system is easy and user-friendly so we don't add to the hassle of your project. There are plenty of ways to book your dumpster rentals on Sandwich today. You can always call us at (508) 737-6540 and our team will take care of you and assist you with the process.

We've also created a convenient and straightforward online booking tool so you can reserve your Sandwich dumpster rental anytime day or night. All you have to do is choose the right size dumpster for your project, click the yellow "Add to Cart" button, input your rental time period, fill out your contact information, and check out. It's that simple!

Finding a dumpster rental Sandwich Massachusetts is quick with us and we take pride in the fact that your dumpster will be delivered on time and in great shape. We drop it off, you fill it up, we take it away, and just like that, your trash is gone!
Choosing the Right Size Sandwich Dumpster Rentals for Your Project
Finding the perfect Sandwich dumpster rentals can be challenging, especially when you are looking for a specific size. Here at Coastline Disposal, we can guarantee we have the right size roll off dumpster Sandwich for your project. With various sizes ranging from 10 to 20 yards, you can find the perfect dumpster for your residential or construction clean-ups. We understand most people are searching for cheap dumpster rental Sandwich options, and we're happy to say we have affordable, cost-effective options for every budget. With rental times of 3 days or 7 days to make sure you have enough time to complete your project. We drop it off, you fill it up, and we take it away….it's that easy!

Our 10 yard dumpster is the perfect roll off dumpster rental Sandwich for smaller residential or commercial needs! Starting at $350 for a 3-day rental and only $409 for a 7-day rental, you can't beat the price of our Sandwich dumpster rentals!

If you are planning a full garage or attic cleanout, our next size up is the one for you. Our 15 yard walk in dumpster rental Sandwich is large enough to take those heavy and bulky items and still has plenty of room left for other waste. Starting at a low price of $425 for a 3-day rental and $490 for a 7-day rental, this dumpster rental + Sandwich is sure to fit your project needs! Coastline Disposal also offers a 15 yard dumpster specific to brush only. This brush-only dumpster is $299 for a 3-day rental - perfect for your next yard project!

The largest dumpster we offer is our 20 yard dumpster which can handle any project you have in mind. This is ideal for construction site clean-up and large cleanouts. Use this dumpster for renovations Sandwich and make your trash disposal process easy. This dumpster is large enough to fit just about anything in and starts at $485 for a 3-day rental and $570 for a 7-day rental. If you're searching for a 30 yard dumpster Sandwich, MA, chances are the 20 yard will be a perfect fit for your project. Start your project today and rent with Coastline Disposal to ensure all your trash disposal needs are taken care of!
Dumpster Rentals in Sandwich FAQs
We understand you might need more information about dumpster rentals in Sandwich before booking with our team of experts, which is why we've compiled a list of frequently asked questions below. Take a look and get in touch with us if you have any additional questions before getting started!

1) What can we load into the dumpsters?

Here at Coastline Disposal, we take just about everything! Some examples of the junk we haul away include refrigerator disposal, garbage removal, mattress disposal, foreclosure cleanouts, construction waste removal, yard waste removal, trash removal, appliance removal, television disposal, and recycling, furniture removal, e-waste disposal, hot tub disposal and more!

Although we try and take everything, there are some restrictions that we have to follow. If you have a question about something you need to dispose of, just give us a call at (508) 737-6540 and we can tell you more about Sandwich dumpster regulations.

2) How do I reserve a dumpster?

Looking for the best dumpster rentals on Sandwich? Look no further than our team of roll off experts for all of your container needs! Book online from the comfort of your home using our convenient online scheduling tool or give us a call at (508) 737-6540 to speak with one of our helpful team members!

3) Do you deliver to my area?

We're happy to offer our dumpster rentals across Cape Cod, including Plymouth, Falmouth, Barnstable, and Sandwich, to name a few. Give us a call to see if we can provide amazing customer service and dumpster rentals in your neighborhood or area.
Best Dumpsters Sandwich and Surrounding Areas
We're proud to do our part in keeping our city, community, and island clean with our expert dumpsters Sandwich options. Our service area in Barnstable and Plymouth counties across Cape Cod includes Plymouth, Falmouth, and Barnstable. We service the 02563 zip code. Don't see your town or zip code listed? Give us a call at (508) 737-6540 to see how we can provide dumpster rentals Sandwich Massachusetts to you.

We frequently partner with local businesses, churches, parks, and school districts to keep our island waste-free and beautiful. We're proud to work with Sandwich Public Schools to keep them tidy and looking their best. We frequently deliver units even farther out and special accommodations can usually be made to suit your project. We care about you, your projects, and your wallets, so give us a call today or use our online system to rent the best dumpsters Sandwich.
Why People Choose Us as Their Go-To Dumpster Sandwich Company
Coastline Disposal is the go-to dumpster Sandwich company because we consistently provide affordable rates and top-quality services. Our mission is to provide an efficient dumpster rental process and to make our customer's jobs easier. Coastline Disposal is the #1 dumpster Sandwich company and our customers can testify to that! We love hearing about the positive experiences our customers have and here are just a few of them:
We Take Just About Everything
Some examples of the junk we haul away include
Refrigerator Disposal

Garbage Removal

Mattress Disposal

Foreclosure Clean Outs
Construction Waste Removal

Yard Waste Removal

Trash Removal

Appliance Removal
Television Disposal & Recycling

Furniture Removal

E-Waste Disposal

Hot Tub Disposal